What's in our bag: The Retreat Packing List
October 13, 2016 | by Jacklyn McCann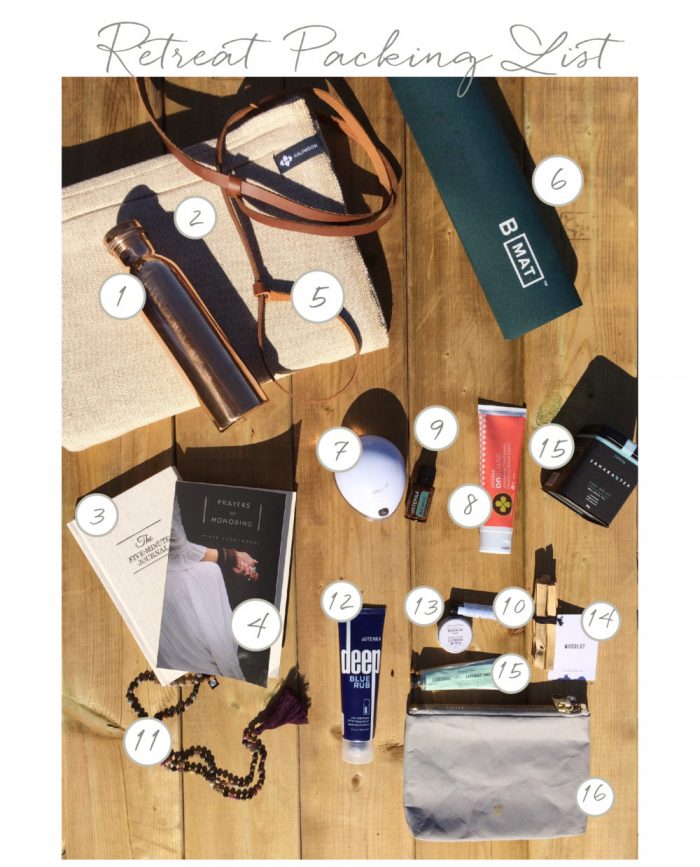 Are you ready for 3 blissful days away?
Retreat with us! We're packing up to enjoy organic and nourishing food, nature, bonfires, and let's not forget the early morning meditation and evening Satsang, in addition to a beautiful community of like-minded seekers. Join us on Wolfe Island, ON and enjoy five radically different embodied movement practices, each one connecting us to one of the five elements: Earth, wind, air, water, fire, space.
Here are some of the goodies that you'll find in our bag!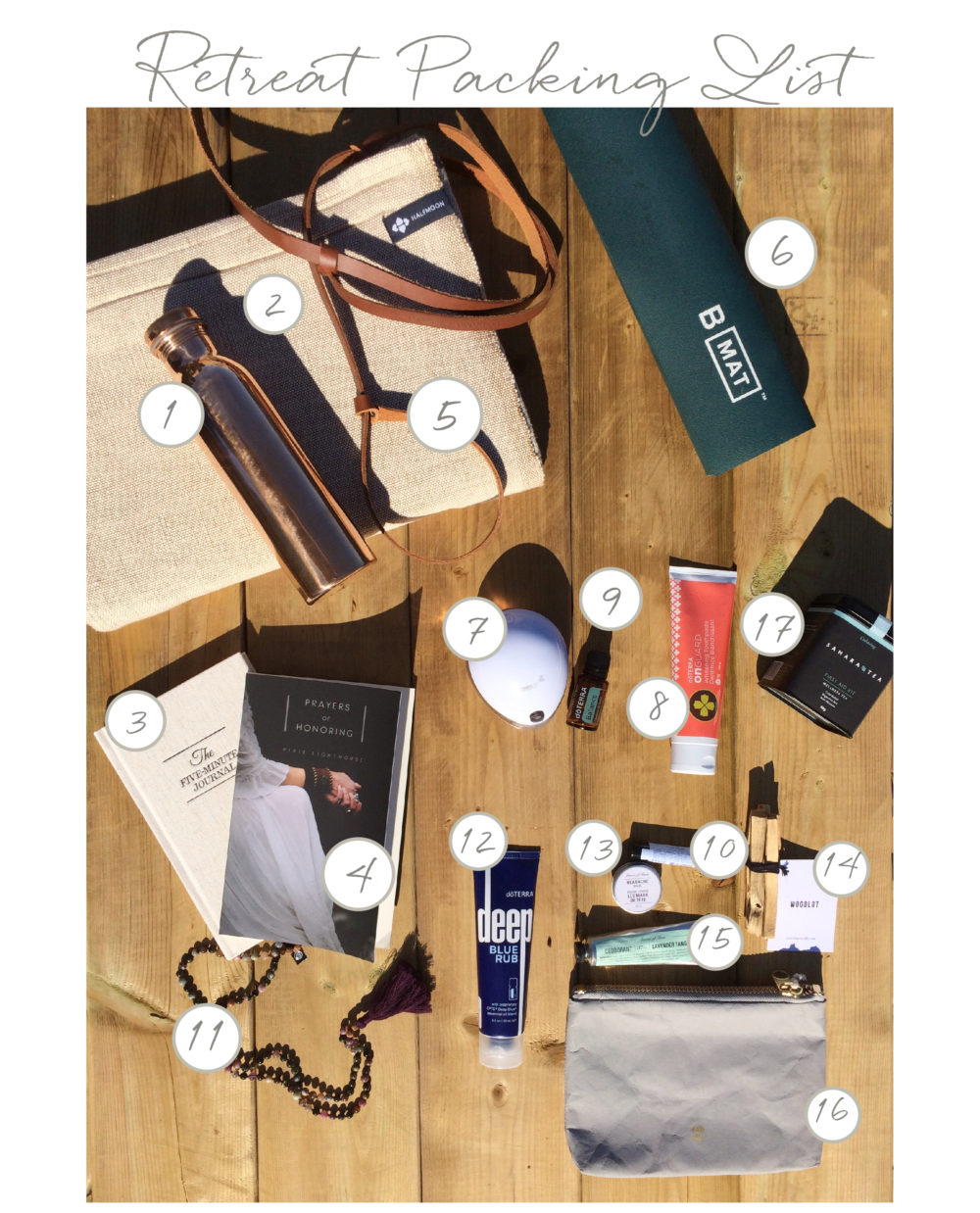 What's inside:
(1) Copper Water Bottle * // enjoy incredible health benefits while staying hydrated with a beautiful AND antimicrobial water bottle.
(2) Halfmoon Cotton Blanket // cozy up by the bonfire and at morning meditation.
(3) Five Minute Journal // journal about your 889 Retreat journey every morning and before bed.
(4) Prayers of Honouring * // honour each divine moment while your journey unfolds.
(5) B Yoga B STRAP // travel in style with this functional, yet stylish vegetable-tanned leather strap. Furthermore, carry your yoga mat like it's a backpack using this strap!
(6) B Yoga Mat // because we think your daily Vinyasa Flow in a beautiful yurt should include one of our favourite mats.
(7) Green Air Scent Pod Diffuser * // diffuse your favourite essentials oils, all day, every day, even on the road (hence, the tiny size)!
(8) doTERRA On Guard Toothpaste // feel fresh all day with this cinnamon-mint fluoride-free toothpaste.
(9) doTERRA Balance Essential Oil // enjoy a sense of calm and balance as you live and love all of the experiences this 889 Retreat provides.
(10) Province Apothecary Lip Balm // repair and condition your lips while you enjoy the cooler and crisper air of the season.
(11) Mala Collective "I Am Radiant" Mala * // shine your radiant light.
(12) doTERRA Deep Blue // massage your muscles after a day of movement, because you know you deserve it.
(13) Leaves of Trees Headache Balm // apply to your temples, the nape of your neck, below your nose, or anywhere you feel muscle tension.
(14) Woodlot Palo Santo // cleanse and energize your space, while naturally warding off mosquitos.
(15) Leaves of Trees Deodorant // stay fresh with this lavender and tangerine infused natural deodorant while you flow through your day.
(16) Hoi Bo Clutch * // carry all of your toiletries in this machine-washable paper material clutch.
(17) Sahara Tea First Aid Kit // sip slowly. A little hot ginger tea goes a long way when you're finally cozied up by the bonfire.
Where to buy:
We want to hear from you! Let us know what your retreat and travel tricks are in the comments below.
Don't forget to tag @889yoga in some of your favourite 889 Shop finds on Instagram and Facebook! We look forward to seeing your favourite products in action.
Sign up for the retreat:
We're almost ready to hit the road! Have we enticed you yet? Click here to learn more.
* Select items available in-store only.