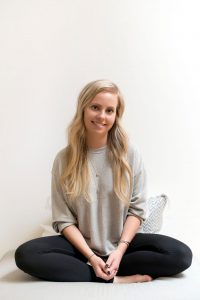 Signy Gissurardottir
Hi! I'm Signy, the owner of 889. I believe that physical + mental health go hand in hand in your overall wellness. Moving + sweating every day is a big part of my life. Spiritual curiosities started for me as a child, which is what drew me to meditation and to my first class at 889 back in 2014. Self love, self–care and connecting with yourself + others in the community is the pillar of 889 and what I continue to nurture here. I enjoy listening and connecting with our members to continue serving the community better. I am so grateful each and every day to be a part of this beautiful space, working alongside my incredibly thoughtful team + caring teachers.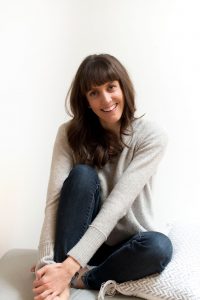 Jenny Tellier
I'm Jenny, the Shop Curator at 889! I'm an artistic soul and love making beautiful things + making things beautiful. I'm also the Founder of RAUQ, a high-vibe, crystal jewelry line which we carry in The 889 Shop.
I love The Healing class led by our goddess Vanessa!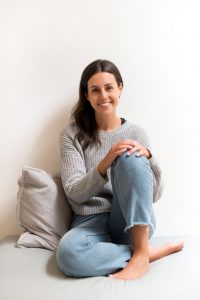 Brittany Turner
I'm Brittany, Head of Operations + Programs here at 889 Community.  I love the opportunity to meet folks at the beginning of their meditation and movement journeys – creating and curating their experience from start to finish.  My passion for movement comes from a lifetime of professional and recreational dancing, and has transformed into a deep curiosity for functional movement, building strength, and sweating for mental health.  I am strongly committed to leading by example and trying new things to shake up my personal growth.  Pick my brain about sensory deprivation float tanks, podcasts, or social media detoxification.
At 889, I spearhead all things Yoga Teacher Training and make it my mission to nurture the experience of our YTT students before, during, and after their training.  Catch me making posters for studio events, coaching clients, or brainstorming new ways to improve the guest experience – I do a little bit of everything here!
My favourite class is The Barre with Kerry!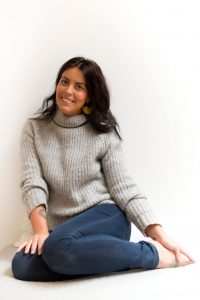 Vanessa DeZutter
Hey! I'm Vanessa, but by now most of you call me V. I'm the Creative Director here at 889 Community. I'm a gal who thrives on connection and is thrilled to greet you each morning at 6:30 AM in hopes you'll tell me what you did over the weekend, what you're working on, what your heart is up to currently, or stories about your dog. You'll always see me with a coffee (or three) at the desk, and as you get to know me, you'll learn that quality time is my love language but coffee is the real MVP.
At 889 I manage all things creative. From marketing and social media, to photography, brand development, creating the challenges you all love and participate in, to writing blogs and the creation of our studio + shop weekly newsletters!  When I'm not at the desk you'll often see me dancing around and watering all of our beautiful green spaces, or teaching meditation and movement classes at the studio too!  I'm a movement junkie and aim to move my body in a meaningful way at least once a day. In fact, you'll often spot me on the mat or at the barre moving along side you in class.
My favourite class is The Flow. I love that this class is dynamic, fluid in movement and challenging all in the same time. Connecting movement with breath and flowing through the sequences with fellow yogis all breathing and moving in unison is so powerful!
Elena Benedetto
I'm Elena and love being a part of the wellness community. I believe that taking care of our physical + mental health is so important and I make sure it takes priority in my life. I really enjoy eating tasty nourishing foods, attending any sort of group movement classes and being able to help others on their wellness journeys, so feel free to ask me any class recommendations .
My favourite class is The Release. This class gives the perfect deep stretch my body craves while also being quiet and meditative. I leave the class feeling brand new and ready for anything that comes my way.
Shauna Gillon
I'm Shauna and I believe that wellness (mental and physical) are key components to living a happy and balanced life.  I'm passionate about fitness, and enjoy strength and conditioning training. I love being a part of the wellness community as it gives me the opportunity to interact with so many amazing individuals.
My favourite classes is The Release + Restore, as it is the perfect combo of the yin and restorative methods.
Hi, I'm Leticia, the cleaner at 889 Community. I believe that an organized space brings harmony and helps us to be happy, healthy and peaceful. That's why it's a pleasure for me to prepare the rooms for the classes and to make sure you can enjoy it at the most, having a cleaned and organized area during your practice.
You might find me quietly going around the studio, that's because I always assume you are in a meditative state, however, I'm always open to help with anything you might need and also to talk if you are feeling like it.
I love Pilates and Restore classes, the first gives me the strength I need for my daily activities, it also corrects my posture and the second one fills me with peace and recovery, recharging my energies for the week while calming my body.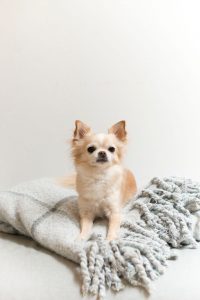 Mia
Meet our 889 Mascot!
Are you interested in joining the team here at 889 Community? We'd love to hear from you!