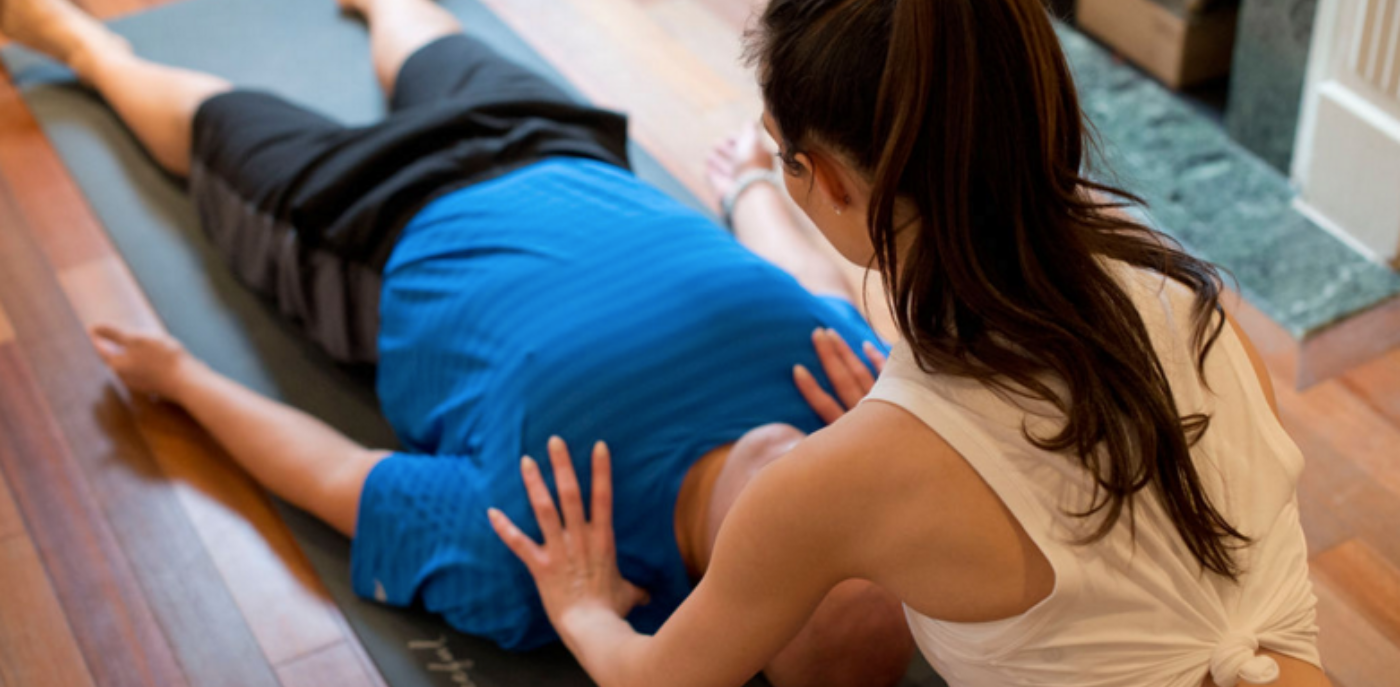 Movement Privates
We offer both one-on-one and group movement-based privates.  Choose the style of class you would like, request a teacher, and pick your date and time.  Privates are a personalized way to develop your practice both physically and spiritually.
Choose From:
Yoga, Pilates, Barre, Meditation, Thai Yoga Massage
Rates
One Person  |  In Studio
Single Session (60 min)  |  $125+hst
Single Session (90 min)  | 185+hst
6 Pack of Privates (60 min)  |  $690+hst
12 Pack of Privates (60 min)  |  $1362+hst 
One Person  |  Location of Your Choice
Single Session (60 min)  |  $135+hst
 
Group  |  In Studio 
Single Session (60 min)  |  $200+hst 
Group  |  Location of Your Choice
Single Session (60 min)  |  $250+hst
If you are a company seeking yoga or meditation for your team, stay tuned for the launch of our Corporate Wellness Program!
---
Relational Somatic Counseling Privates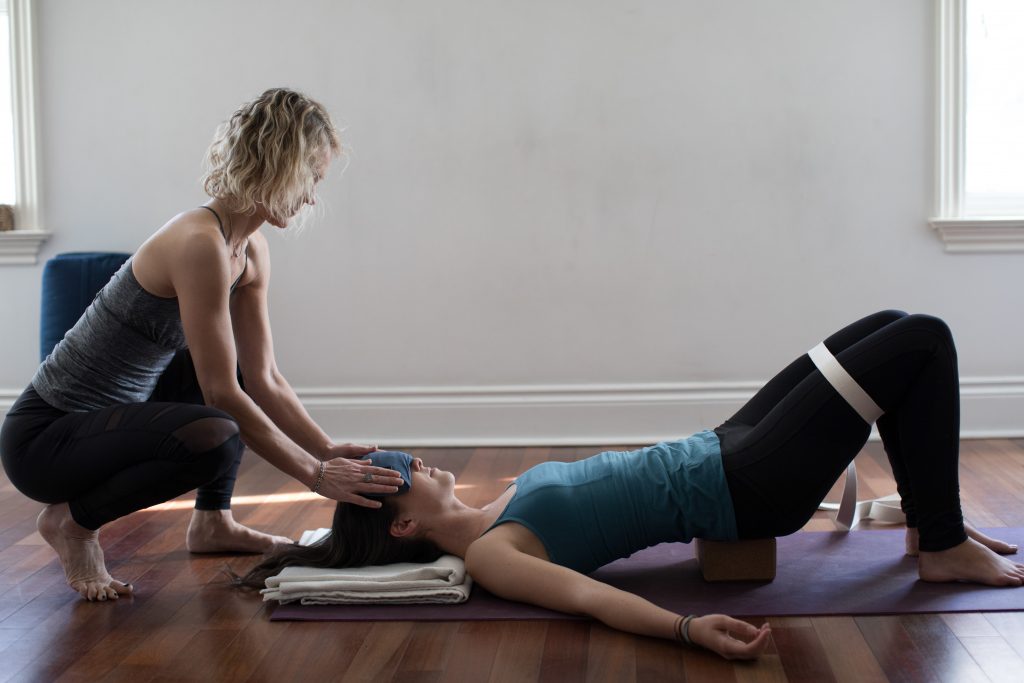 Book these specialized privates with Lisa Mitchell, 889 Teacher and Relational Somatic Counseling Practitioner.
Somatic means dealing with the body. By choosing to work with Lisa, you open yourself to an integrated approach to healing that involves your body, mind, emotions, energy and spirit. She works with you as a complete human being to promote wholeness. Clients usually show up with a specific challenge, issue or block. Lisa will encourage you to connect with "the felt sense" – sensations/feelings present in the body e.g., hollow chest, churning belly, shallow breathing. Slowly and compassionately you will begin to understand the connections between your present stress and previous wounding. You will be guided to notice behavioural patterns that you have adopted to keep yourself safe while at the same time you may observe that these patterns feel restricting – think people pleaser, perfectionist, rebel, comic as examples of roles people may take on to survive. With awareness and time, you will begin to create positive change in your life by noticing when and how you are triggered and then consciously choosing more healthy ways of coping. With willingness and support, new ways of being in the world are solidified and old patterns fall away, ultimately creating more space and freedom for the true self to shine.
Lisa's approach is informed by her own healing journey, yoga, mindfulness and psychotherapy and her desire to share with others what has been healing in her own life. She believes that we heal through relationship. Relational somatic healing takes time and is a process. Sessions are a unique mixture of talking and experiencing. Lisa views herself as a guide, educator and facilitator of human transformation. She has worked with people living with anxiety, depression, stress, trauma, loss and addiction. Lisa holds a Master of Adult Education and is an experienced yoga and movement teacher with a background in public health. She is a student of yoga philosophy and mindfulness and have undertaken a three-year relational somatic psychotherapy program called the Three Fold Way. Lisa is also currently studying spiritual psychotherapy at the Transformational Arts College in Toronto.
For more information, please visit lisamitchellyoga.ca
How this Works
* Sessions are 60 or 90 mins in duration
* Wear comfortable clothing
* It is recommended that you meet with Lisa once a week in the beginning to establish trust and momentum. Healing is more likely to come about when you attend sessions regularly especially at the start of the process
Rates
Single Session (60 min)  |  $125+hst
Single Session (90 min)  | 185+hst
6 Pack of Privates (60 min)  |  $690+hst
12 Pack of Privates (60 min)  |  $1362+hst 
---
Personal Coaching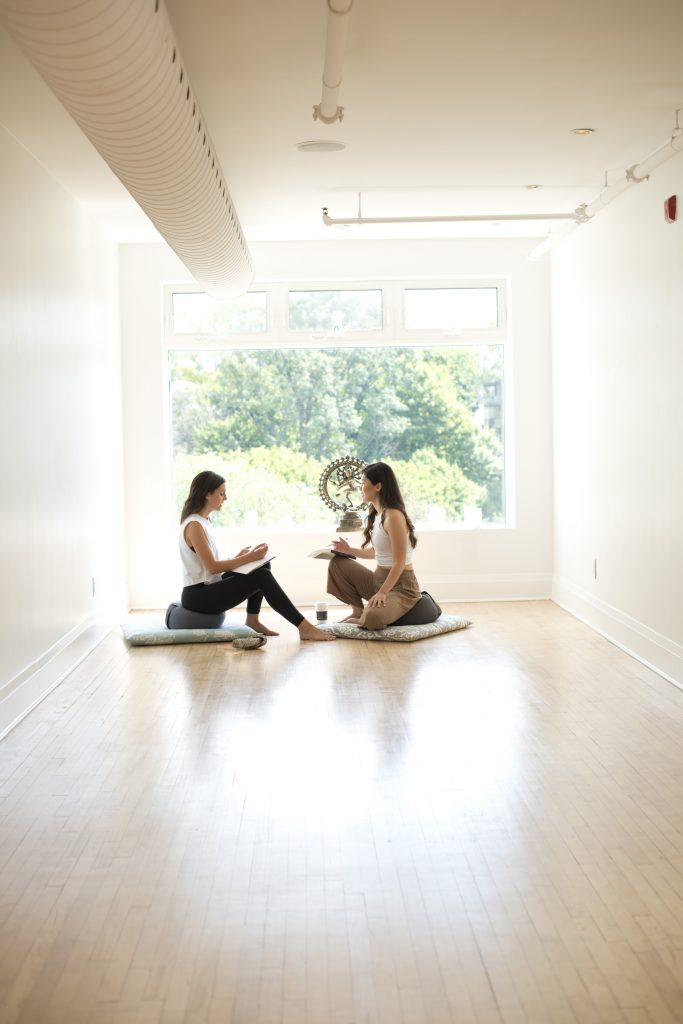 We offer coaching at 889 Community because we're here to serve you in a holistic way: body, spirit and mind.  If you haven't heard of coaching before, it's simple.  A Personal Coach is like a Personal Trainer, but for your life and self-development.
889's resident Coach, Brittany Turner has been working with clients since 2016 and prides herself on taking a creative and action-based approach when it comes to coaching.  Her work focuses heavily on the following challenges:
-The fear to fail
-Indecisiveness
-Unfulfillment and discontent
-Lack of motivation and accountability
"I walked into the coaching experience hopeful and open to the process, but definitely not expecting the amount of insight it gave me in the end. Through her patient and thoughtful listening, Brittany guided me to not only uncover my core values and unique skills but also opened my eyes to some fears and barriers that were holding me back. I started out feeling confused about my career, with many ideas but no confidence in any particular choice. Throughout our six sessions and various exercises, Brittany helped me identify my ideal path, and feel confident and validated in pursuing it. I recommend Brittany's gentle guidance to anybody in need of motivation and positivity" – Morgane, Coaching Client
Coaching Themes 
These themes often bleed into one another while working together, but Brittany suggests choosing one as a starting point.
Calm: For you if you are seeking strategies for stress relief, support in being more present, and ways to infuse your life with a stronger sense of calm.
Clarity: For you if you are finding yourself frustrated with the unknown, unable to make decisions, and stuck in a pattern or place that feels limiting.
Courage: For you if you seek a more loving inner-voice, strategies for acting in the face of fear, and accountability to the goals that you desire to achieve but can't stay committed to.
Brittany Turner is a collaborative Personal Coach who believes that coaching is a healthy catalyst for change. Any opportunity to sit down with an objective and supportive person, is a chance to change your perspective, hear your own thoughts vocalized, and put desires into real action.  This is exactly what coaching is.  The bulk of Brittany's experience has been with millennials, as she falls into this group and easily relates to the challenges, triumphs, and changes that they face.  Through working with her, clients learn more about themselves, their values, and inner voice, so that they can move beyond sessions with the confidence and courage to take healthy risks.
Get a deeper sense for Brittany's work by visiting her BLOG, listening to her PODCAST, or accessing her ONLINE COURSES.
How it Works
1. Request a complimentary Consultation Call with Brittany – fill out the form below to request.  This is a 20 minute phone call to learn more about coaching and see how it can be tailored to you.
2. With Brittany's support, select a coaching theme that resonates most with you.
3. Choose from a package of 3 or 6 sessions.
All sessions are 60 minutes in length and are held at 889 Community.
Rates
Personal Coaching – 3 Pack  |  $450+hst
Personal Coaching – 6 pack  |  $850+hst
---
Request Your Private Session