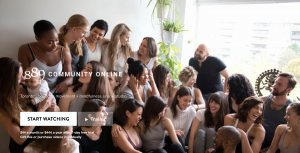 What are the 889 Community Online offerings?
Our online offerings are classes with your favourite 889 Teachers held online! You can attend these classes from the comfort of your own home, when you want (on-demand!), they will include The Flow, The Pilates, The Meditation, and The Barre. In addition to these classes, we'll also be offering workshops + foundational movement and meditational series. A new class is released daily!
Where can I find the online offerings + how can I access them?
Here you'll be asked to create an account. Once logged in with a subscription you'll have unlimited access to all our library of class offerings.
How do I stream this onto my TV?
You can mirror the site onto your TV right from your phone, iPad or directly to your smartTV (using Screen Mirroring from your phone). You can also watch our videos on your phone and tablet right from the website!
Want us to help walk you through how to get this up on your TV? Say the word and we will give you a call to walk you through how you'd like it set up. Message us on [email protected] and we'll be in touch.
Will these be accessible via computer, tablet, iPhone, Android?
Yes, you will be able to access the classes on any digital device. Watch from anywhere! Your favourite classes are available wherever + wherever you want.
What's the pricing of the online classes?
You're invited to join us online for unlimited classes at either of the rates below.
$44+hst  Monthly
$444+hst Annually 
What props will I need?
You'll notice in some of the classes, props are used to support your practice. If you don't have this prop at home, get creative! These classes can be done using simple household items such as blankets, pillows or even books stacked for height making it simple, easy and accessible for everyone.
We love the use of additional props to get you deeper into your practice, such as our 889 bands, sliders, straps and yoga blocks from our 889 shop!
(shop these goods here!)
Yoga: We recommend your yoga mat + blocks + bolsters when showed in classes. A blanket is always a sweet touch for savasana at the end of the class.
Barre + Pilates: We recommend a yoga mat, squishy ball+ hand weights, sometimes gliders or resistance bands if you have them. 
Meditation: This one's easy. Just make yourself comfortable in an upright or reclined position. Use your yoga mat or meditation cushion at home, or if you don't have one, simply chose a soft surface like a carpet or pillow. Use blankets, a pillow under your knees + an eye pillow if you have one.
_
We look forward to seeing how 889 Community Online studio looks like in your homes!
Tag us on Instagram @889community to share what your practice looks like! #my889