Jodi Fischtein
Jodi has practiced the methods of Ashtanga and Vinyasa Flow Yoga, and has studied with Shiva Rea within her methodology of Prana Flow. Her practice has included a wide range of disciplines ranging from Yin Yoga to Thai yoga massage. She is currently engaging in MBSR method studies at the University of Toronto.
With a solid foundation in her own practice, Jodi encourages her students to soften the edges in asana practice to open the door to a truly embodied practice. Through the dedicated work of Buddhist Thich Nhat Hanh, Jodi practices deep listening, to better understand the global community.
Travelling alone through India and leading yoga retreats in North Africa has shifted her worldview and increased her capacity for compassion and understanding.
Nora Benian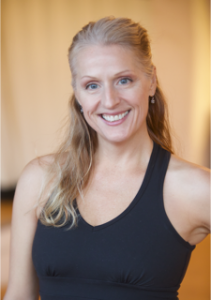 Nora loves to share the wisdom found in the teachings of Yoga. She is a practitioner of yoga for over 20 years and teaches classes to a wide range of people with a wide range of challenges whether physical, emotional, psychological or spiritual.
Nora's knowledge of anatomy, physiology and Yoga Therapy guides students safely through yogic postures and practices. She is a Certified Yoga therapist with IAYT and E-RYT 500 Yoga Alliance.
Nora is a compassionate teacher who helps students to release stress and tension, strengthen the body and mind, and learn to relax deeply. Modifications and adaptations are used when necessary making yoga class experience positive for all. Nora inspires students to grow and helps to motivate them through challenging at times, self-development with joy and ease.
Adam Bolton
Adam leads classes designed to quiet the mind and inspire the body through music, movement, and breath.
His goal is to provide a supportive and inclusive space – safe for students to awaken the body's vitality, and to release stress patterns.
To develop an intelligent, and satisfying yoga practice, Adam integrates conscious alignment and proper breathing techniques into engaging and challenging sequences.
To support the constant evolution of realizing your potential, Adam's classes are an opportunity to clear the slate – physically and emotionally to make space for the connection to spirit.
Carolina Carvalho
Carolina started practicing yoga in 2000, while still living in Brazil. The inner peace found on the yoga mat sparked her ever-growing curiosity to learn more. She took her first hatha yoga teacher training program in Toronto in 2006.
In 2008, during a trip to India, Carolina experienced yoga therapy in a clinical setting and since then has been working one-on-one with individuals of all walks of life, dealing with specific needs and conditions to help them achieve optimal health and overall well-being. With over 1,000 hours of formal training by renowned mentors, Carolina creates a safe practice environment focused on the subtle exploration of body and mind.
Through her own journey and teachings, she hopes to inspire people to live from a place of love and acceptance, realizing their fullest potential. Ongoing studies and practice, combined with a compassionate heart make her classes a soothing experience for mind, body and soul.
Tasha Rooke
Tasha takes a holistic approach to yoga, stemming from her first training in Reiki healing in 1995. She has moved and inspired thousands of people through her teaching practices for over a decade. Students have been touched by Tasha's heartfelt work and many are inspired to be the change in their lives. It was in Northern India and the Himalayas where she received a wealth of wisdom in the ancient vedic tradition. Tasha's meditation training was acquired directly from the source in India.
Tasha is a U of T graduate as a Religion Specialist, successfully completing studies in Buddhist Psychology and Mental Health. Tasha brings forth a playful and experienced presence in her yoga classes. She is highly intuitive, empathetic and a compassionate and gifted healer.
Audrey A. Gentile
Audrey Gentile is a yoga teacher, culinary arts graduate, wife and bulldog mom. Hailing from northern Quebec, her yoga journey began in 2002. As she deepened her discipline for the practice, learning and travelling with Lyne St-Roch, pioneer of francophone yoga, she discovered its broader spectrum and the self-exploration gifts it offers.
Audrey's teaching is infused with authenticity and vulnerability. Skillfully arranging asanas to ease the journey from the physical to the subtle body, her emphasis is on what the practice feels like and what it evokes. Compassionately unambiguous around taking a 'non-guru' approach, she focuses on empowering her students to connect with their own wisdom and strength.
Today, calling Toronto home, Audrey can be found teaching in local studios, in private at-home classes, in satellite workshops and as part of her immersive retreat experience, L'Anima, in Italy.
Audrey's love for yoga is matched by her passion for slow and ethical food. Her attention being on the quality of both these sacred practices, the essence is ultimately feeding the body and soul in a true holistic sense and as a way to celebrate life.
Justin B. Haley
Justin has been a student of Yoga for nearly 15 years after discovering the practice during his University studies at U of T. It wasn't until his own personal experience with cancer in 2007, however, did his relationship to the practice transform into a profoundly passionate commitment.
This experience led Justin to India where he healed, studied, and discovered the practice over the course of a two year period; allowing him to really explore and deepen his bond to this ancient tradition. Seeing and experiencing the transformative therapeutic qualities of the practice first hand, Justin now dedicates his life to helping others slow down, to expand, and discover the potential miraculous daily health benefits of practicing yoga and meditation.
Justin teaches a variety of daily classes in Toronto and continues to study in India and in North America, currently with Seane Corn, Annie Carpenter, Judith Hanson Lasater and Mary Richards. He is a lululemon ambassador and is the Program Director of the Muskoka Yoga Festival. He facilitates workshops, international retreats, restorative teacher training programs and hot stone yoga therapy experiences.
Kim McBean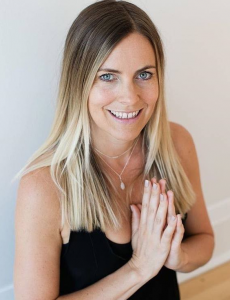 Kim is a gifted and empathetic educator and practitioner with a passion for yoga, pilates and somatic movement practices. With 15 years educational and practical experience in movement and therapeutics, Kim nurtures a safe, contained space of self-inquiry, empowering others with tools and techniques that support mindful, bodily presence as a means to grow and transform.
Kim has trained at The Nosara Yoga Institute in Costa Rica and the Octopus Garden Yoga Centre in Toronto. She has studied Restorative Yoga with Judith Lasater, Trauma Informed Yoga with Sarah Kinsley, and Pilates with Leslie Parker at Mindful Movement Centre. She continues to study and practice yoga, somatic-body energetics, and other various forms of experiential movement with her most valued and cherished mentors.
Marla Meenakshi Joy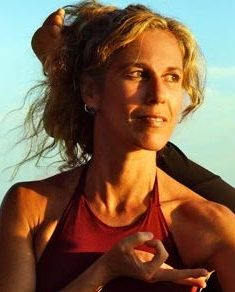 Marla Meenakshi Joy, (Co-Owner and Director of Downward Dog Yoga Centre), first traveled to India in 1988 to study meditation and the philosophy of the Vedas with Swami Shyam, as well as other learned scholars in the Himalayas.  She is a Certified Meditation and Yoga Philosophy teacher from the International Meditation Institute in Kullu, Himachal Pradesh, Himalayas. Along with her studies with her Pranayama teacher Sri Sudhir Tiwari, Marla has also completed an Advanced Pranayama training with Sri O.P. Tiwari from the Kaivalyadhama Institute in Pune, India.
She has been teaching in teacher training programs since 1999 across Canada, the U.S., Europe and Asia, as both a teacher of Philosophy and Sanskrit, Chanting and Meditation, Ashtanga and Vinyasa yoga, and Restorative Yoga. A practicing Shiatsu Therapist since 1993, and teaching Mysore (Self-Practice) around the globe, Meenakshi has a healing and informative touch.
As a celebrated songstress, she also leads Kirtan (call-and-response chanting) with her band SWAHA, with inspired musical compositions with her partner/keyboardist, Ron Reid.  She has produced four CDs of Sanskrit chanting entitled "Prayer's", "Salutations", "Vishnu's Dream", "Bolo!", "Shanti Pulse, and their newest CD "Gone Beyond".
Scott Petrie, RP
Dipl. Psych., M.Ts., R.P. Scott is a Registered Psychotherapist, Certified Clinical Trauma Specialist (CCTS-I), member of the College of Registered Psychotherapists of Ontario and Canadian Association of Psychodynamic Therapy.
He is the Assistant Educational Director and Faculty at OPC. He lectures on Ethics and Professional Practices and is a Learning Group facilitator.
Scott's personal interest in Yoga and Buddhism has led him to explore and lecture on the intersection between eastern with western theories of self and mind and to bring those insights into his work with trauma and structural dissociation of the personality.