We have collaborated with yoga's best and brightest to bring you a phenomenal Yoga Teacher Training in 2018!
PROGRAM HIGHLIGHTS:
Class Dates: September 14th to November 23rd, 2018. Final Exam Due December 7th, 2018.
Maintain your day to day life: work, family and personal, while studying. All classes will take place in the evening after 7pm and on the weekends.
11-week intensive program: After only 11 weeks of in-depth training and study, you be on track to graduate and start teaching by the end of the year!
Module Based Learning: Learn at your own pace. If you cannot commit to the entire program all at once, take each module one at a time, and graduate when you have completed all program requirements.
Receive all 889 Member Perks: Receive one complimentary towel each time you join us for a class, 10% off The 889 Shop, discounts on 889 workshops and private YTT Mat Storage.
Build relationships and friendships: for life! And become an integral part of the 889 Community.
889 Community Class: upon graduation, you will have the opportunity to teach a community class for 4 weeks on the regular 889 schedule!
PROGRAM MODULES
Essential Foundations in Teaching: Hatha Postures & Vinyasa with Jodi Fischtein
The Philosophy of Yoga with Scott Petrie
Self Awareness Meditation with Tasha Rooke
Growth & Inquiry: Practice Informs Your Teacher Skills with Jodi Fischtein
Whole Be-ing, Chakras & Subtle Body Energies with Jodi Fischtein and Carolina Carvalho
Embodied/Applied Anatomy with Adam Bolton
Sanskrit + Chanting with Marla Meenakshi Joy
Teacher Lab: Clear Seeing, Speech & Perception. Tactile Adjustments in Asana with Jodi Fischtein
Peaks, Valleys & Edgepoints: Vinyasa Kramas with Jodi Fischtein
Teaching Restorative Yoga with Nora Benian
Pre and Postnatal Yoga with Tasha Rooke
Healing Modalities with Justin Haley
Contemplative Design in Vinyasa Krama with Audrey Gentile
Teacher's Arena: Field Work. Moving off Script with Jodi Fischtein
Teaching Trauma-Informed Yoga with Kim McBean
Apply Now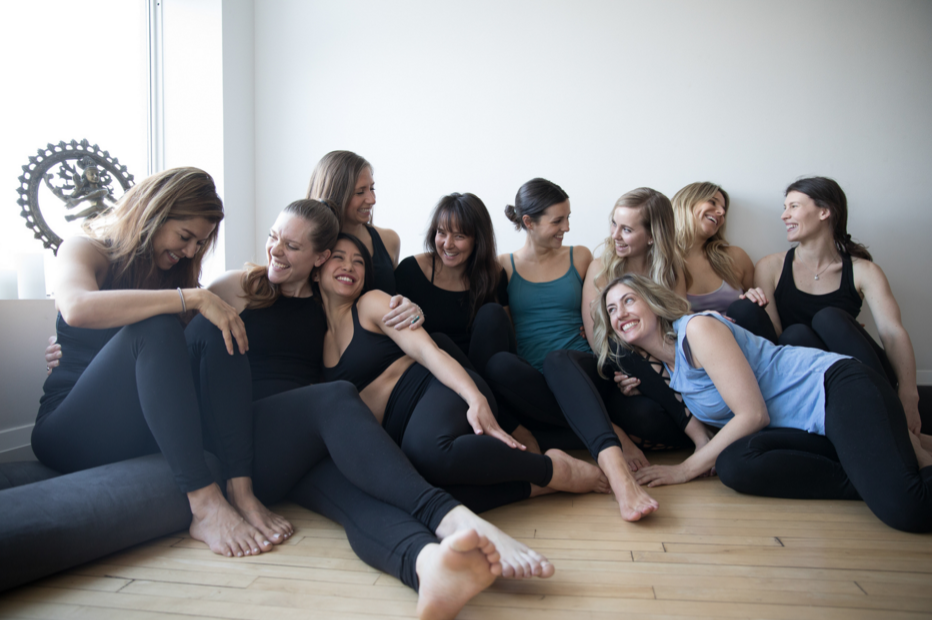 The 889 Community YTT is unique in its depth, and level of care and support for its students. 889's Team of Faculty are diverse, highly experienced, Toronto-based teachers, each eager to share their specific area of expertise with you. During 889's YTT you will be exposed to many different methods of learning, from informal evening chats and powerpoint presentations to quiet meditations and restorative practices to hands-on assists in asana class and practical real-world teaching assignments.
Experience soulful Vinyasa Flow Yoga, influenced by the Prana Flow teachings of Shiva Rea balanced with strong components of Yoga Anatomy, Yoga Philosophy, Restorative Yoga, Sanskrit, Chanting and Meditation. The beautiful medley of modules in 889's YTT will fully prepare you to begin your transition into a well-rounded teacher. Upon graduation, you will step out into the World with many tools beyond what you need to be successful as a Yoga Teacher.
The Teaching Practicum is a major focus of this program and will prepare you to confidently guide an integrated class to students of all ages and levels of experience upon graduation. You will be thoroughly trained on how to use your voice, hands-on assists, listening skills, observation skills and effective sequencing to enhance your classes. In addition, our faculty will encourage you to question everything you learn throughout the program so that you develop strong critical thinking skills. We encourage you to take the time to self-reflect on a deeper level so that you develop your own unique style of teaching. We can't wait to see what each of you bring to our 889 Community!
This program is for absolutely everyone. If you are not sure if you would like to become a yoga teacher but are interested in diving deeper into your personal practice, your body, and your mind, this program is definitely for you.
To learn more, please book a complimentary one-on-one meeting with one of our Happiness Team members by emailing: happiness@889community.com.
Apply Now

HOW TO PARTICIPATE:
1.) 10-week intensive program: Take the course in its entirety, September through December, and be on track to be a certified Yoga Teacher by the end of 2018!
2.) "A la carte" or "module-based" learning: Take modules one at a time over any amount of time that you choose. Enroll in a few modules this school year, take a few more next school year, and so on, until you complete the program in its entirety. We simply require that you let us know the year you plan to graduate. Early registration is key in order to be able to complete modules on an a-la-carte basis.
IS THIS PROGRAM FOR YOU?
The 889 YTT is for someone looking to deepen their knowledge of yoga, in its many forms. Some students have a clear intention to teach upon graduation, others just want to enjoy the path of self-discovery. This course offers valuable life skills which will carry and elevate you far beyond your yoga mat (ask any of our Graduates!). These include embodied movement and physiological awareness, critical thinking skills, presenting arguments, and conscious communication. The schedule is manageable for those running a home and for those with full-time careers or studies with some advance planning and commitment. On top of the classroom hours, you should expect 2-3 hours of reading and homework per week.
PROGRAM PRE-REQUISITES:
A minimum of 6 months practicing yoga and/or meditation or studies in other related mind-body disciplines.
We strongly recommend that you begin a regular practice at 889 prior to the program commencing, with a focus on 889 Flow classes. This ensures you get the most out of your 200-hour Yoga Teacher Training Program.
BONUS:
Refer a friend to the program and receive $100!
CREDITS:
889 Community is an accredited Yoga Alliance School. Upon completion of the program and final exam requirements, you will be qualified to register with the Yoga Alliance in order to receive your 200-hour Teacher Training certification. This is a 200-hour Yoga Alliance (www.yogaalliance.com) certified program.
PAYMENT:
Full 200 Hour Program: $5500+HST
*Payment plans are available. Please email happiness@889community.com for details.
Apply Now