Inflight Beauty: Your Ultimate 889 Guide to Surviving Long Haul Travel
November 21, 2018 | by Happiness Team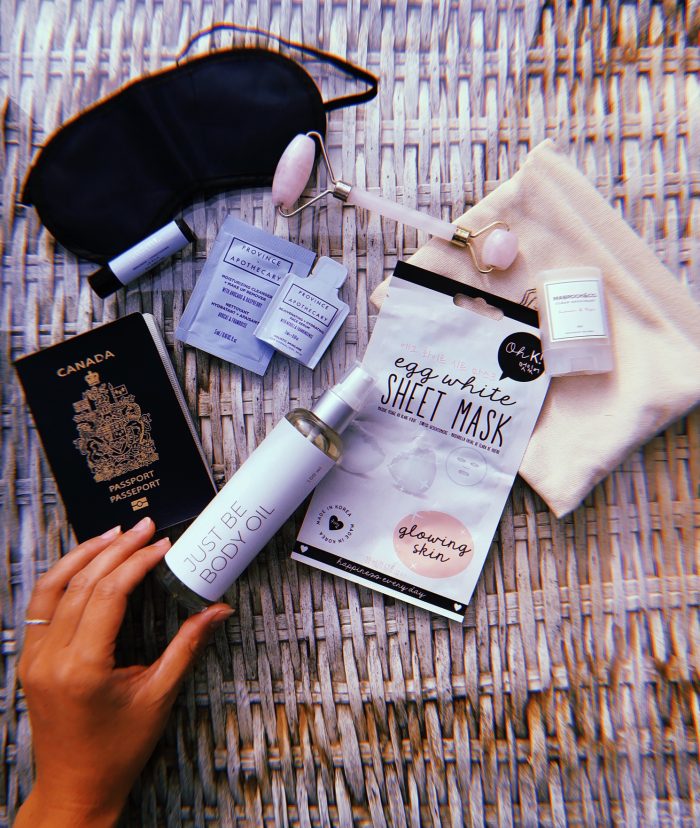 by: Vanessa DeZutter @vanessadezutter
Resort season, plane season, travel season…whatever you want to call it, is upon us. As the snow begin to fall at a more and more rapid pace and the temperature starts to drop below zero, we cannot help but fantasize about what beach or tropical destination we could be on, ASAP.
But with the luxury of air travel, come the inevitable and potentially seriously problematic skin issues, no matter if you're stretched out in first class or fighting for the armrest in economy. When it comes to your skin care on a plane, let's just say that flying is for the birds. So as a frequent flyer and constant adventurer, before I left on my recent journey to Morocco, Africa and into the dreaded plane purgatory for 8+ hours, I prepared and wanted to share some of my favourite 889 Shop items that I packed with me in my carry on bag to fight, (for my skin's right) to party!
Your skin's first and biggest beef with flying is the dry cabin air. "Typically, skin is comfortable when the humidity is between 40 to 70 percent," says Melissa Kanchanapoomi Levin, a clinical instructor in dermatology at Mount Sinai Hospital in New York City. "Most airplane cabins are at about 20 percent. That's less than half of what we are used to," she says. Yikes!
So, almost immediately after the seatbelt light dings it's bell and turns off, I'm already itching to reach under the seat for my carry on bag to get all my skin goodies. Before I do anything else on the plane I remove all of my makeup with my Moisturizing Cleanser + Makeup Remover from Province Apothecary. Voted "Best Of Green Beauty 2016" and for good reason. This is my favourite makeup remover on and off the plane. Chock full of amazing ingredients like Avocado Oil and Raspberry Seed Oil, it cleanses without disrupting the natural pH of your skin. The blend of pure plant oils won't clog pores, dry out skin or cause irritation, making it ideal for all skin types including acne-prone skin. I apply the Moisturizing Cleanser + Makeup Remover by splashing a little water on my face from my Swell Bottle then gently massaging the product into the skin, and then carefully removing with an unscented baby wipe. Up next, and another favourite from Province Apothecary, the Rejuvenating + Hydrating Face Serum. This incredible serum is my daily ritual at home and the tight seat and limited leg room certainly wouldn't stop me from having well hydrated and smooth skin upon arrival. It absorbs easily into the skin to deliver essential phytonutrients that nourish, hydrate and firm. It's wow-factor is easily delivered through the included Neroli oil and Frankincense oil and is what I believe to be one of the key components to this in-flight skin care routine.
Next step, is arguably the most challenging if you're back fighting for space in economy class, but lucky for me, my husband is so used to my antics at this point he partakes and even encourages how deeply I will dig for hydration (and red wine) al la flight . If you're lucky enough to be flying first class or business class, you'll have more than enough room to achieve the next step. (And hey, if I can do it wedged between the tiny seat and a deeply reclined gentleman in front of me, we can all do it!) Our newest and maybe our most exciting release at the 889 Shop is our Just Be Body Oil. made in house at 889 Community, with the highest of quality sourced Fractionated Coconut Oil, French Lavender, Frankincense Carterii, Vetiver, Cedarwood Atlas, Jasmine Sambac, Absolute Moldova, and Absolute Rose essential oils, finished off with a tiny rose quartz crystal. The bottle is 100 ML so it complies with in flight regulations and wont cause any hangups through security, and will provide you the most soothing and relaxing experience during those moments of "will this flight ever end."
The Vetiver and Cedarwood in this body oil are beautifully grounding and stabilizing and can help with the sensation of detachment while flying meanwhile the Lavender is an incredible adaptogen used to regulate and balance mood or help combat any inflight fears or anxieties. I applied the body oil liberally to my arms and legs and paid careful attention to consciously apply to the bottoms of my feet and really experience the sensation of grounding into the floor to calm my central nervous system and recover my Muladhara, or Root Chakra while we literally flew through the air.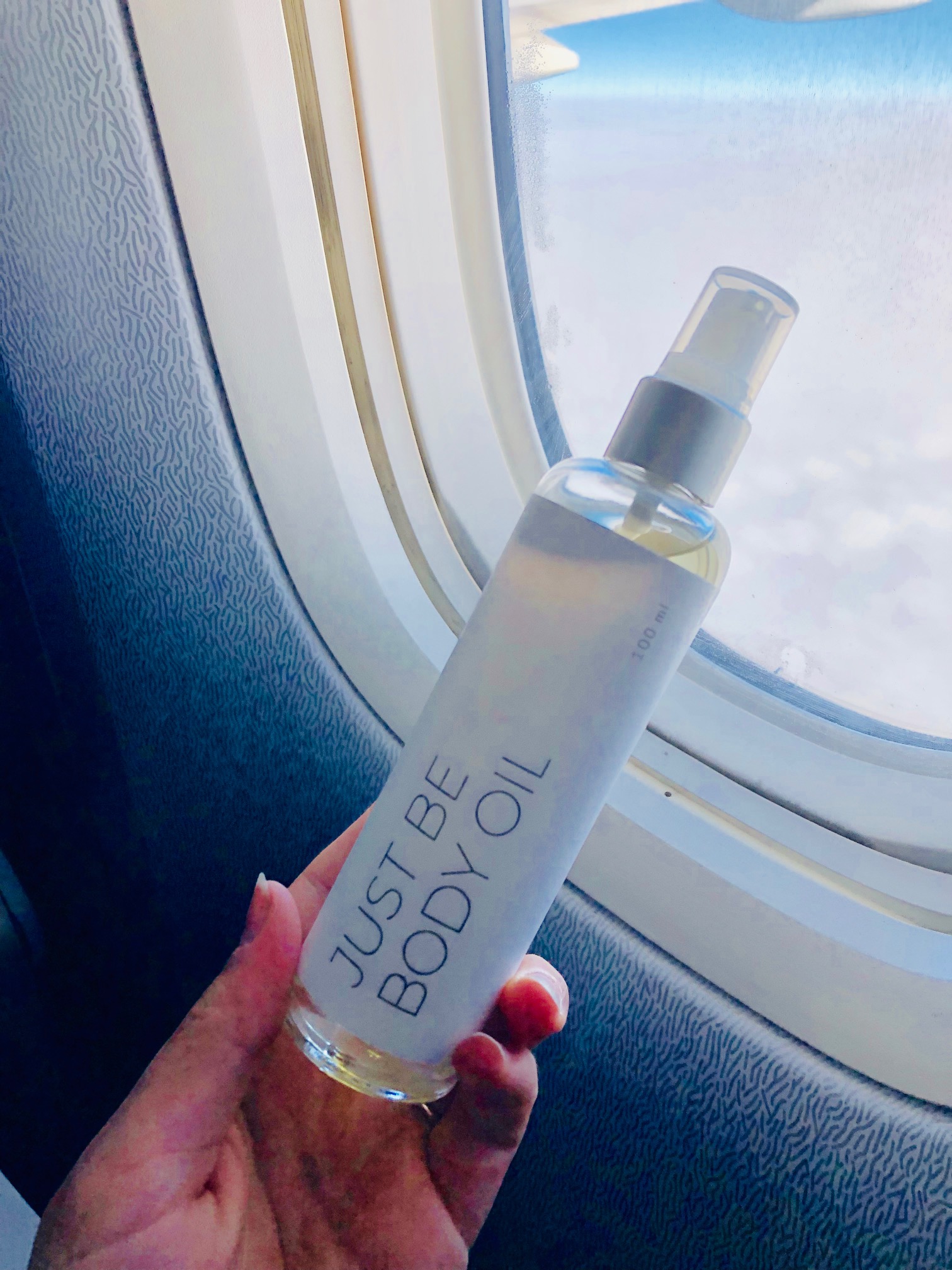 Staying fresh smelling is also of the highest priority for me while flying, so I popped my travel size of Mabrook & Co. Clean Deodorant in Lemon and Rose in the carry on bag with me. This deodorant is a 100% aluminum free, completely natural, and combats odour by combining pure, and organic ingredients in the most powerful and safe formula possible. Free from parabens, phthalates, propylene glycol, petrochemicals, aluminum, or toxins, all so important to me in the air and on the ground. I love that this is one of the few natural deodorants that can be applied in the tradition "roll on" method so that I didn't have to stick my hands in my armpits without easy access to a washroom to clean up the evidence. This deodorant is an in-flight must in my opinion!
Next up, I packed along a hydrating sheet mask from Sephora (any will do, just be sure to look at the ingredient list on the package for the high quality ingredients you can find and sustainable sourced products and packaging) and my Rose Quartz Facial Roller. I applied the sheet mask as outlined in the instructions on the package and then rolled over the whole mask using an upward and outward motion. This particular motion technique stimulates circulation and oxygenates the skin. This method is one of my favourite ways to utilize my Rose Quartz Facial Roller, as once you have the sheet mask on, the roller helps to stimulate the pores, allowing my product to penetrate into the skin to intensify your treatment and promote the deepest hydration.
Other not-so-great side effects of that super low humidity with we are inflight can include nosebleeds, dry lips, and itchy red eyes. So I am sure to carry on my Repairing + Conditioning Lip Balm, again from Province Apothecary for my lips (and sometimes nose!) along with moisturizing eyedrops, which I apply every few hours if my eyes are feeling itchy or irritated.
Once your sheet mask is applied then removed following the instructions on the mask, then followed up with your hydrating lip balm, you can sit back, cover your eyes with Silk Eye Mask from Halfmoon and enjoy the rest of your flight knowing you will arrive looking rested, happy and healthy!
Ps. Don't forget to stay hydrated in flight, drink lots of water and get up for standing and stretching breaks often and frequently. Along with some of my favourite above mentioned 889 shop products, I am always sure to employ extra essential oils, herbal tea and even Vicks VapoRub, to ensure I arrive both primped and serene, ready to take on my vacation by the reins!
xx,
Vanessa (The Happiness Team)