Get Beautiful Skin With These 3 Self-Love Tips!
August 11, 2016 | by Happiness Team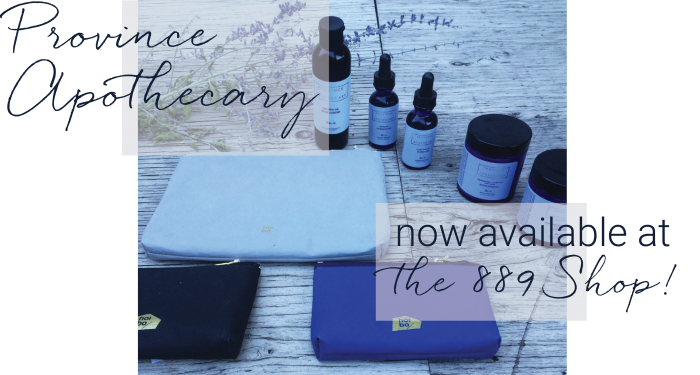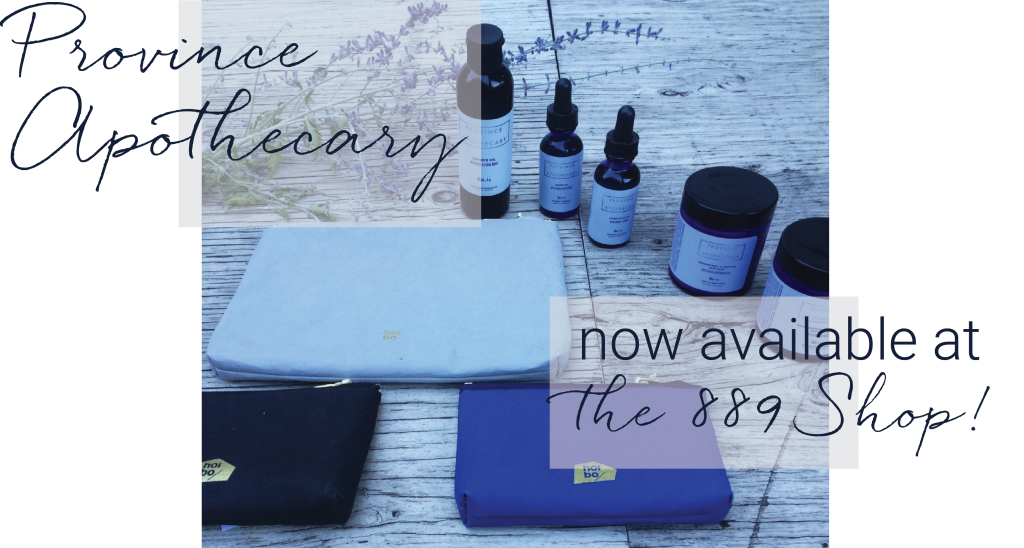 Our skin is our largest organ, and to have beautiful radiant skin we must take care of it!
We are SO excited to officially launch Province Apothecary as our primary Skincare product at 889! Visit us on August 14th, for a special Shopping Party and meet Sarah, PA's skin expert from 10:45 to 12:45, for some education and samples. In the meantime here are our 3 'self love' skincare tips and 3 classes full of self-love to take at 889:
PA: Treat your 'problem areas' lovingly
Don't pick at your skin! It can be tempting to pop pimples or self-extract blemishes, but this can lead to further damage and scarring. Instead of picking at problem areas, apply a spot treatment like our Clear Skin. If you have large areas of congestion, try a Detoxifying + Clarifying Clay Mask weekly to reduce surface oils and smooth texture. Always remember to think of skin concerns positively, as a warning sign to a deeper imbalance that you can work to heal.

889: If you are tense or coming off an injury, don't push your body to do high intensity classes. Treat yourself to Yin Yoga. In this class, you will hold long juicy poses to ease tension out of your lower body and reset for a new day!
PA:  Self-massage
Treating yourself to a little massage can be as simple as spending a couple extra minutes to massage your Face Serum into your skin. Use our Lover's Oil as an aromatherapy body massage treatment, or pick up an organic oil such as hemp, avocado or jojoba from a health food store. If your skin is inflamed, irritated or deeply congested, use light pressure and be sure to avoid any sensitive areas. If your skin can handle it, work your way to a deeper massage technique, spending extra time on areas that enjoy the pressure. This is a great way to release toxins from the deeper layers of our skin and increase circulation. Our facial muscles also appreciate this gentle release, resulting in a youthful, radiant glow!
889: Make sure to take yourself to at least one Restorative Yoga class a week. The most important element of our practice, is our rinse-cycle. Attending Restorative Yoga once a week will allow for more balance and in your body and mind. Melting away into the support of the earth and your yoga props for 75 minutes will ensure a lighter, brighter you.
PA: Dry brushing
Dry brushing every morning before you jump in the shower gets your blood flowing, helps you detoxify and makes your skin feel great! It's an easy and effective way to add a healthy glow instantly. Some of the benefits of dry brushing are: stimulation of the lymphatic system, exfoliation, increased circulation, reducing cellulite, relieving stress, improving digestion and kidney function.
Here's how we like to do it, step-by-step:
Start brushing from the feet and upwards along the legs in long, smooth strokes. For lymph flow, I always brush toward the heart/chest area where the lymph system drains
Repeat the same process with the arms, starting with the palms of the hands and brushing up the arm toward the heart.
I then repeat the process on my abdomen and back and my face with a more delicate brush.
Gentle is best! A soft and smooth stroke is the way to go. Don't brush so far as to create redness or irritation. Use a different set of brushes for your face, as the skin is much more delicate.
889: The highest form of self-care is Meditation – don't be scared or intimidated. We have a roster of experienced Meditation Instructors to guide you whether it's your first meditation or if you've been doing it for years. In Meditation you can get in touch with yourself and truly understand what you need.
Visit us on Sunday August 14th for a class, some shopping! Sarah from Province Apothecary will be on site with some samples and a special discounts for anyone who wants to visit PA for a facial! See you there!